American Idol Contestant Takes Us to Church With Lauren Daigle's 'Thank God I Do'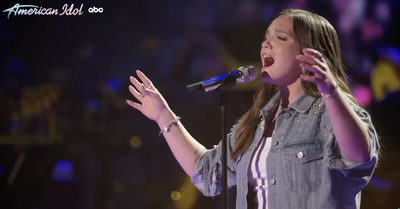 By from GodTube.com, Crosswalk.com
America is making its voice heard loud and clear, as they whittle down the contestants on American Idol. What started out as hundreds have now come down to just 12 contestants. Megan Danielle is one of those included in that exclusive group of contestants.
In her latest performance, the 21-year-old server from Douglassville, Georgia, took on one of the latest songs by a huge name in the Christian music scene. Megan gave a stunning rendition of "Thank God I Do" by Lauren Daigle.
In the clip posted to YouTube, Megan belts out the lyrics about the love and safety God provides in her familiar southern drawl. Throughout the season, Megan has steadily improved as a performer. Her voice has only gotten better. Her confidence on stage has grown significantly.
Megan turned in yet another stunning performance. Her beautiful rendition of the Lauren Daigle hit earned her a well-deserved standing ovation from the studio audience and the judges!
Megan has consistently used her abundance of musical talent and spot on the program to sing songs worshiping and praising God. In her very first appearance on the show, during her initial audition, Megan sang another of Lauren's hits: 'You Say."
In that first performance, not only were Lionel Richie, Katy Perry and Luke Bryan in attendance, but someone else made an impromptu appearance. Lauren actually showed up, walked in and sang along with Megan during her audition!
It was clear from the get-go that Megan possesses a ton of talent. If Megan continues to turn in touching and moving songs about God, His love and the power of forgiveness, she could be the next winner of American Idol.
Ephesians 5:19 "Speaking to yourselves in psalms and hymns and spiritual songs, singing and making melody in your heart to the Lord."
This content originally appeared on Godtube.com; used with permission.
Photo credit: ©GodTube/American Idol