'How Great Thou Art' By Carrie Underwood with Vince Gill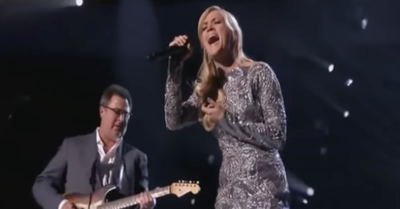 Crosswalk.com
"When Christ shall come,
With shouts of acclamation,
And take me home,
What joy shall fill my heart!"
'How Great Thou Art' was originally written in 1885 by Swedish evangelist Rev. Carl Boberg. He set the words to a Swedish folk melody.
The hymn became translated to German, then Russian, and then into English. An English missionary named Stuart Hine was responsible for this while he was working in Ukraine and heard a congregation sing the song in Russian. However, 'How Great Thou Art' did not gain worldwide popularity until it was performed by George Beverly Shea on a Billy Graham crusade in 1957. Today, two powerhouse vocalists are putting their own spin on this tune, and it's absolutely incredible.
Carrie Underwood and Vince Gill are two of the top names in country music, and hearing them use their talents to worship the Lord is simply amazing. Who else is saying amen?
"Stuart K. Hine was a British Methodist missionary on a mission trip in Ukraine in 1931 when he heard the Russian translation of a German song inspired by Carl Boberg's poem "O Store Gud" (O Great God). Hine began to translate the song to English and added several verses. The third verse was inspired by the conversion of villagers in Russia who cried out to God loudly as they repented and realized God's love and mercy - "And when I think that God, His Son not sparing, sent Him to die, I scarce can take it in.'" For more on the story behind this hymn, click here.
Matthew 11:28-30 "Come to me, all who labor and are heavy laden, and I will give you rest. Take my yoke upon you, and learn from me, for I am gentle and lowly in heart, and you will find rest for your souls. For my yoke is easy, and my burden is light."
This content originally appeared at https://www.godtube.com/watch/?v=KL6WYLNX; used with permission.
Photo credit: ©GodTube/ElkonOne