When God Gives More Than We Can Handle (2 Corinthians 12:9) - Your Daily Bible Verse - October 4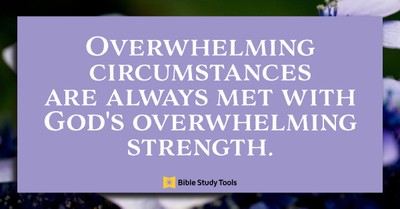 Crosswalk.com

When God Gives More Than We Can Handle
By: Betsy St. Amant Haddox
"But he said to me, "My grace is sufficient for you, for my power is made perfect in weakness." Therefore I will boast all the more gladly of my weaknesses, so that the power of Christ may rest upon me." - 2 Corinthians 12:9 (ESV)
It's a common saying among Christians: "Don't worry, God won't give you more than you can handle." This is well-meaning in intent, but completely inaccurate. Over and over in Scripture, we see God giving people way more than they could take emotionally, spiritually, and physically.
Do you think Paul simply "handled it" when he endured prison, floggings, beatings, stoning, shipwrecks, robbers, abuse, false accusations, hunger, sleep deprivation, dehydration, nakedness, and cold, all for the sake of the Gospel? (2 Corinthians 11:21-29) Of course not. Paul wasn't a superhero. It wasn't that those awful things somehow just didn't upset him. Rather, he learned to look to the true source of his strength—the Lord. He overcame in the strength of the Lord, rather than in his own power. The Lord sustained him in his hour of need.
2 Corinthians 12:9 (ESV) "But he said to me, "My grace is sufficient for you, for my power is made perfect in weakness." Therefore I will boast all the more gladly of my weaknesses, so that the power of Christ may rest upon me."
David also struggled with depression, anxiety, and physical toil in his life. The Psalms are full of his pleadings with the Lord for relief. But he didn't give in to despair, rather, he kept redirecting his focus and attention to the way the Lord had come through for him in the past. Psalm 52:9b (ESV) I will wait for your name, for it is good, in the presence of the godly. He knew to wait for the Lord, to trust His will and His timing, even when times were unbearably hard.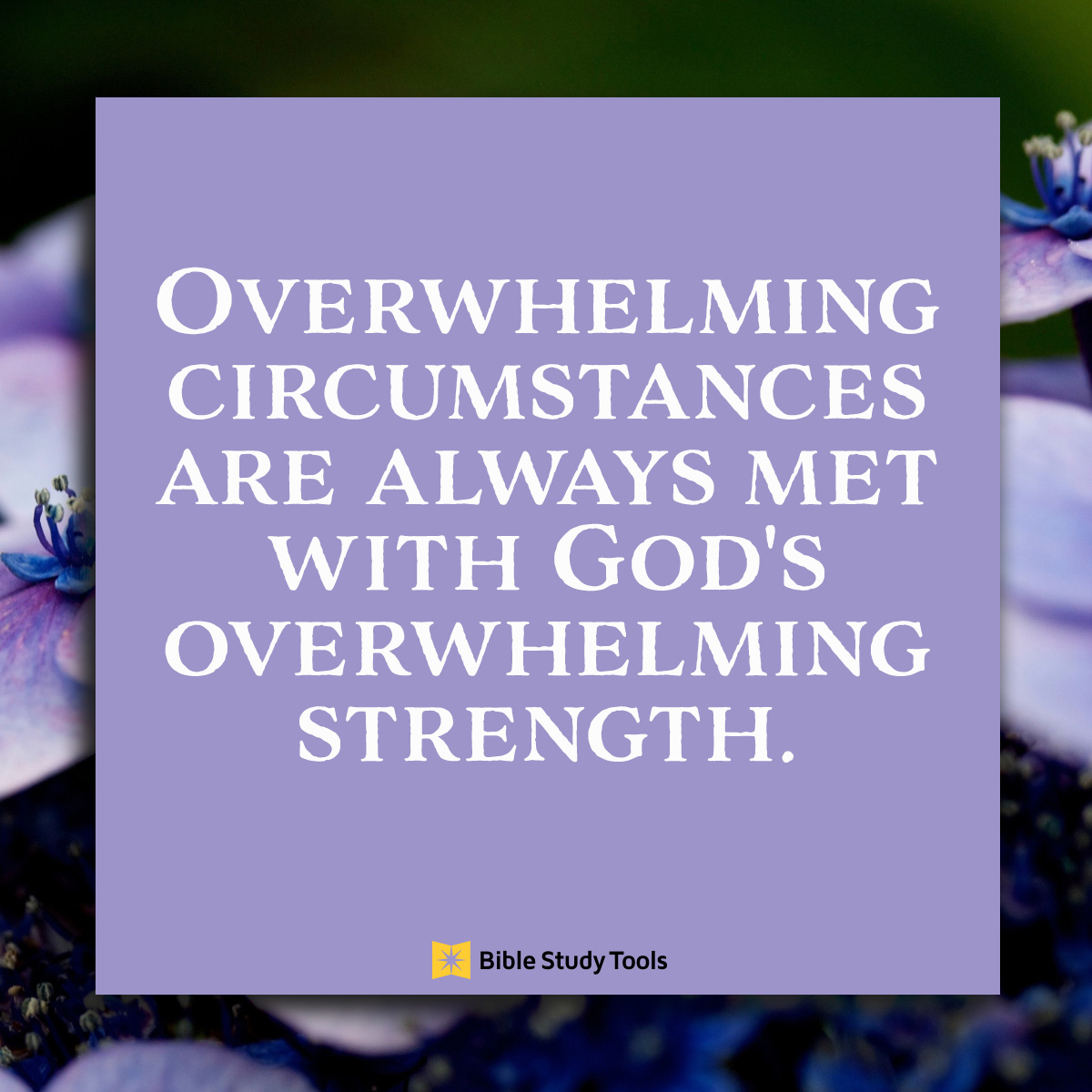 Do you think Gideon was incredibly confident and felt strong when the Lord slowly chiseled away at the number of the men in his army, leaving him with a mere 300?
Do you think Job, when he lost his livestock, wealth, friends, children, reputation, and health—all in a matter of days—shrugged and said, "oh well, I can take it?" No. He looked to the Lord and His power, and focused on God's strength in contrast to his own weakness.
Tough times will come. Divorces happen. Financial strains come and go. Children rebel. Doctor's reports come back with bad news. Parents age and conflicts occur between friends and people lose their jobs. The Lord promised us they would. John 16:33 (ESV) "I have said these things to you, that in me you may have peace. In the world you will have tribulation. But take heart; I have overcome the world."
He doesn't leave us with tales of doom, however. He promised we'd have peace in Him, and in Him alone. He also gives us instructions on how be strong.
Ephesians 6:10 (ESV) Finally, be strong in the Lord and in the strength of his might.
1 Chronicles 16:11 (ESV) Seek the Lord and his strength; seek his presence continually!
These verses, and many more like them, don't command us to pull ourselves up by our boot-straps and figure it out. They don't call for us to "handle it". They don't tell us that "big girls don't cry" or "it could be worse". They call for us to acknowledge our broken hearts (Psalm 62:8) and seek the Lord. Where we are weak, He is strong.
Sometimes, being strong in the Lord and seeking Him means crying out in prayer while taking a long bubble bath. It might mean listening to Bible Verses on audio while you jog. For me, when my husband initiated a divorce after ten years of marriage, it meant quoting Scripture over and over until I fell asleep in our bed alone.
We're not equipped to handle anything on our own. We're fragile, we're weak, and even on our best days, we can't sustain a "chin-up" attitude for long. The only true peace in adversity is found in Christ alone.
Will God give us more than we can handle? Absolutely. Not because He's harsh, but because He loves us. He won't leave us in the trial. And there will be purpose worked out through every hard moment—a purpose that is working in us for our good and His glory. (Philippians 2:13)
Romans 8:18 (ESV) For I consider that the sufferings of this present time are not worth comparing with the glory that is to be revealed to us.
---
Betsy St. Amant Haddox is the author of more than fifteen inspirational romance novels and novellas. She resides in north Louisiana with her hero of a hubby, two total-opposite young daughters, a vast collection of coffee mugs, and an impressive stash of Pickle chips. Betsy has a B.A. in Communications and a deep-rooted passion for seeing women restored in Christ. When she's not sweating it out at Camp Gladiator or trying to prove unicorns are real, Betsy can usually be found somewhere in the vicinity of a white-chocolate mocha—no whip. Look for her latest novel with Revell, The Key To Love, coming October 2020. Visit her at http://www.betsystamant.com.
We want to experience God through the Bible… we really do!
But our good intentions fall flat when reading the Bible just doesn't seem to help us experience God in a real way. What should feel alive often feels confusing and boring and irrelevant. But it doesn't have to.
In the How to Study the Bible podcast, pastor and Bible teacher Nicole Unice brings life back to reading the Bible by walking listeners through her Alive Method of Bible study, helping us personally encounter God through his Word by giving us a practical, clear road map for understanding, interpreting and applying Scripture to our lives. Just click below to start listening now!