5 Steps for Successful Christian Marriage Counseling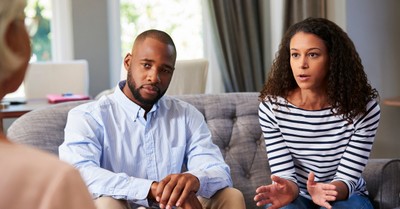 By Dr. David B. Hawkins, Crosswalk.com
Do you ever feel like your marriage is adrift, with no one guiding the ship? Do you know something is wrong but no one appears to tell you exactly the problem or exactly what is needed to heal the problems? Have you tried to get help but it seems that it is too little, too late?
Terry and Stephen are in that situation, both feeling helpless and hopeless. Both blame the other for their marriage problems, and yet both also sense that someone needs to come in and guide them along a path of healing.
Married for fifteen years with two young children in the home, they have been fighting off and on for the duration of their marriage. Like many others who reach out to me for help, they have been to counseling several times with little change.
Terry has reached a breaking point. She decided to separate in the hopes that she could "catch my breath." She wanted more than that, of course. She wanted to break free of the incessant bickering in the hopes that she could determine a healthier direction for their marriage.
Terry and Sid are normal. They are typical of most couples struggling to find direction. Both feel discouraged and desperate to find answers. Yet, the opinions they've received from pastors, marriage counselors, physicians and friends are confusing to them. The direction they've received is conflicting and unclear. Furthermore, both have the sense that no one has really looked into the inner workings of their marriage and named the problems and severity of it.
Terry and Stephen are now separated and I am consulting both of them individually. Terry refuses to enter back into marriage counseling and Stephen feels desperate to save their marriage. Terry wants time to reflect and consider her options.
Why Should You Try Christian Marriage Counseling
"I've tried counseling," Terry told me in a phone consultation. "No one can tell me exactly what to do. All I know is that we weren't making any progress and I can't live that way any longer."
"What guidance have you been given?" I asked.
"I've been told a lot of different things," she said. "There is really no one who has stepped in to guide me. My girlfriends support me and my parents tell me I shouldn't have to live this way."
In talking to Stephen, he has much the same story.
"She is intent on separation, and I don't know exactly what I need to do to save our marriage. I'm willing to do anything, but she will no longer talk to me. She wants space and so all I can do is wait."
"But waiting alone won't save your marriage, Stephen," I said. "There are problems in your marriage that need attention. Waiting is very unlikely to bring clarity and direction."
In separate conversations with Stephen and Terry, I recommended the Therapeutic Healing Process. I described to them the following scenario:
"I will meet with you both for several hours, taking a thorough history and arriving at a conclusion as to what you bring to the marriage problems. I will listen to you share what you believe you do to sabotage intimacy as well as what you believe your mate does that creates problems. I will bring my expertise to bear on what I hear and what I believe needs to happen. Then we will gather for the purpose of healing those wounds and learning to speak to each other in a healthy manner. After several individual and couples sessions, utilizing new skills, you both will be in a better position to decide how you want to proceed. At the least we will have a clear direction for your marriage, and at the most we will have direction and healing for the wounds created in your marriage."
As I talked to Terry and Stephen, I reminded them of the Biblical truths we had to follow.
"Solomon nailed it," I said, "when he said there are seven things the Lord hates. I'd like to suggest these seven things be avoided at all costs: haughty eyes, a lying tongue, hands that shed innocent blood, a heart that devises wicked schemes, feet that are quick to rush into evil, a false witness who pours out lies and a person who stirs up conflict in the community." (Proverbs 6:16-19)
Both agreed that these truths would be a backdrop to our work. Terry was particularly cautious but willing to proceed.
"We've haven't really had that kind of direction," she shared anxiously. "I don't want to fight with him anymore. I can't take it. I'm willing to give this a try."
"There will be no fighting, Terry," I said. "Our sessions will be highly structured and you both will agree to be prayerful and listen to each other."
Stephen was hopeful and wanted to proceed. We laid out the following guidelines:
What Does Christian Marriage Counseling Require?
First, both would come to the counseling sessions in a spirit of humility and openness for the purpose of healing.
We agreed that these sessions wound not be marriage counseling, per se. Rather, they would be a time to examine hearts, attitudes and behaviors that have created wounds. Each would have an opportunity to share their part in the marriage problems and what they believed their mate contributed to the problems. We would step back so to speak, to openly look at each person's part in creating wounds in the marriage;
Second, we would examine the truth regarding their marriage problems.
Looking at the history of their marriage, with each person owning their part, we would examine the truth of the marriage problems. We would assume that both had hurt the other and both needing healing from the other;
Third, we would work together to heal wounds.
Both agreed to proceed with understanding that they had wounded the other and would take responsibility for adding to the healing of their mate. Each would agree to do their part to help their mate heal and would also seek wise counsel to heal their character issues that contributed problems to their marriage;
Fourth, we would hold each other accountable for individual change.
Together we agreed to meet for several two-hour sessions to do 'healing work.' They agreed to come to the Therapeutic Healing Process ready to own their part in the marriage problems and the impact they have had on their mate. They agreed to follow my guidance and any other professionals that became part of the healing process;
Finally, we would map out a plan going forward.
After the Therapeutic Healing Process we would develop a plan going forward. Both agreed to seek clarity and truth and to utilize that truth to develop a plan going forward. Both agreed to utilize the truths that emerged from this process in developing a plan for their marriage going forward.
What to Expect from Christian Marriage Counseling
First, you should receive clarity.
Scripture tells us that the truth will set us free—after it hurts, of course (John 8:32). Truth brings clarity and clarity helps us make critical decisions. You should work with someone who helps you understand your situation and the truth of it. They must be willing to say hard things to you, and you must invite them to do it.
Second, you should receive, and feel, compassion.
We all need to feel cared for before we care what you want to say. You should work with someone who has a heart for helping you save your marriage and cares about you. You should feel and sense that they are willing to work hard for you and your marriage. You should feel their concern and compassion.
Third, you should receive courage.
It is hard to make decisions that will radically improve our lives. We must have an inner conviction and courage to follow through with those convictions. We need cheerleaders, encouragers who will help us make those tough decisions. Your marriage counselor should care enough, and be wise enough, to encourage change.
Finally, you should receive a course of action.
It is not that your marriage counselor will tell you what to do, but will help you discern a wise direction for your life. Couples need plans of action, a clear course, that will lead them out of their chaotic living and into a healthy, vibrant relationship.
(excerpt from 4 Things You Should Expect from Your Marriage Counselor)
How to Find a Christian Marriage Counselor
Here are few questions to ask and things to consider when you begin the search for a marriage counselor. Do not be surprised if it takes a few visits to know if the persona is right for you. You should feel comfortable and safe with the person who will be working with you.
First, ask some basic questions related to credentials: What type of license do you have and from which state? (The license should be from the state licensing board, not a counseling association and should be from the state they are practicing in). Do you have an accredited degree? What other professional memberships and associations do you belong to?
First, find a counselor who is competent.
Just as you would do research before going to a medical doctor, do the same due diligence when seeking marriage counseling. Not only do you want a counselor with excellent education (with at least a Master's degree), you also want someone trained and particuarly interested in marriage counseling. While most counselors say they do marriage counseling, very few receive specialized training in the field. Don't be afraid to ask questions about their interest in the field, experience as well as specific questions as to their rate of success. Seek a marriage counselor who has a specific protocol for marriage counseling and feels confident with it.
Second, determine your counselor's attitude toward marriage.
Again, don't be afraid to ask about their stance regarding marriage. Do they actively promote divorce? Do they actively promote marriage? What are their beliefs and how do they play out in the marriage counseling process? Some counselors are 'neutral' about marriage and don't actively try to 'save a marriage.' Instead, if there is too much conflict in the marriage, they will encourage separation and divorce.
Third, seek a 'strength-based' counselor.
Many counselors are trained to 'find out what is wrong in the marriage.' With this training and orientation, they tell you everything they see that is wrong with your marriage. Of course this only serves to make matters worse if this counsel is not coupled with observing and building upon the strengths in your marriage. Your counselor notes, and help you note, what you do well in your marriage. What are the ties that bind you together in a healthy way?
Fourth, seek a counselor willing to offer clear and specific guidance.
If you could find your way out of your jam on your own, you wouldn't need a counselor. Sitting with a counselor who only does reflective listening can make you feel good temporarily, but you need an 'emotional surgeon,' willing to make incisive comments and observations. This won't always feel good, but you will sense you are getting to 'the heart of the matter.' If you don't have a sense that you are receiving specialized, skilled, decisive direction, you're not getting your money's worth.
Finally, find a counselor who is available to you.
While most counselors work 9-5, Monday through Friday, not all issues arise during 'banker's hours.' Increasingly I find I must often schedule multiple sessions per week during the crisis phase of marriage counseling. At times I must take phone calls or answer emails to ensure the couple is staying on track with homework assignments or managing their conflicts effectively. Good marriage counselors aren't afraid to roll up their sleeves and listen carefully to the needs of their clients, changing course as is needed and requested.
(excerpt from When Marriage Counseling Fails)
I would like to hear from you about the issue of therapeutic healing in marriage. Please send responses to me at [email protected] and also read more about The Marriage Recovery Center on our website. You'll find videos and podcasts on sexual addiction, emotionally destructive marriages, codependency and affair-proofing your marriage.
Related Resource:
Join Rob & Joanna Teigen on the FREE Growing Home Together Podcast each week, where they talk about what makes a strong marriage and wisdom in parenting. We share uplifting advice and practical tools to help you grow closer to God and each other in every season of life. Listen to their episode on surviving the hardest days of marriage by clicking the play button below:
Photo credit: ©GettyImages/monkeybusinessimages
Related podcast:
The views and opinions expressed in this podcast are those of the speakers and do not necessarily reflect the views or positions of Salem Web Network and Salem Media Group.
Read the full article here!