4 Popular Fears About Marriage and How to Overcome Them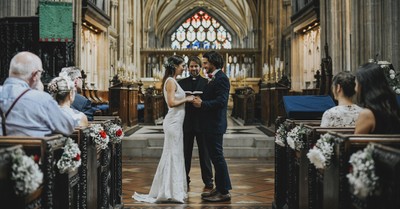 By Meg Gemelli, Crosswalk.com
I knew a bride who was so afraid to walk down the aisle that she was prescribed anti-anxiety medication. It was stressful for the entire wedding party, especially her parents. I was worried enough about her that I even forgot to smile in some of the pictures.
Behind the closed doors of the therapy room, the fear of getting married is a common topic of conversation amongst my clients. And the Census Bureau reported in 2010 that 30% of the U.S. adult population was considered "never married"—the highest percent in sixty years. What's going on?
A trend to consider: Men are now waiting to marry until they're 28-years-old on average, and women, until they're 26. Researchers also have a good idea of why some of us are more prone to commit than others, and have identified some developmental milestones and attitudes that seem to be predictors.
But what fears or societal changes might be getting in the way, and what are those of us desiring to marry at some point supposed to do about it? Here are four of the biggest fears about marriage (and how to overcome them).
Fear #1: What if I marry the "wrong person" and regret it?
We live in "fear of missing out" world, or "FOMO" for those of us staying pop culture savvy. With every social event, job promotion, childbirth, and relationship status posted to social media, it would seem that everybody else is living the "good life." Our tendency to share the highlight reel has created an illusion—one suggesting that we're missing out on "something" or "someone" better.
What if I regret getting married? What if my "soulmate" is still out there...the one I would never fight with?
Current social trends reflect the power of the fear. Though couples are marrying later, they're not waiting until later to move in together. In fact, they're co-habitating at higher rates than ever before—an effort to "test drive" the relationship before fully committing to marriage. Just 60% of those couples will actually follow through with a wedding, the rest likely to live in a state of serial monogamy.
The Fix: A real world soul check.
While FOMO is a feeling, based in fantasy, commitment is a healthy and beneficial choice. Science now supports what the Word has touted all along. We belong to one another. Men and women engaged in safe, loving relationships live longer. They're less vulnerable to sickness such as heart disease and mental health distress, and they report higher levels of life satisfaction than do their single or divorced peers.
The take-away: No relationship is completely stress-free or a perfect match. Most couples get mad enough at one another to regret getting married sometimes. But the opposite of love is not anger, it's apathy. It's a risk to open our hearts, but commitment can be one of the most fulfilling, protective opportunities given to us by God.
"He who finds a wife finds a good thing, and obtains favor from the Lord." Proverbs 18:22
Fear #2: Will I lose my personal identity if I get married?
This is a fear I hear about often, especially from women. And when I'm asked the question, my honest answer is, "If you don't remember you were made to be..."
As human beings, our connections often define how we identify ourselves. In fact, you're likely reading this article because you identify as a son or daughter of God. You visited Crosswalk.com because you have a relationship, are curious about a relationship, or you've been helped or hurt by a relationship with God or one of His followers.
Both men and women express fear that "married status" will result in losing personal choice and control.
Will I be expected to quit my job, get pregnant, and be a housewife as soon as we say, "I do?"
Will she tell me where and when I can go places and do things?
Will he or she control all the finances?
These are very real concerns. Many of them are based on painful life experiences with parents growing up, past romantic relationships, or on misconceptions about what a healthy union actually looks like.
"I praise you, for I am fearfully and wonderfully made. Wonderful are your works; my soul knows it very well. My frame was not hidden from you, when I was being made in secret, intricately woven in the depths of the earth." Psalm 139:14-15
The Fix: Know your identity in Christ.
Just as having an "identity in Christ" does not make a person actually "become Christ," getting married does not strip a person of their talents, preferences, or callings as an individual. Marriage is about enjoying a relationship, just like faith. And while yes, an intimate marriage does require us to place another person ahead of ourselves in ways that we've never experienced before, it's not an identity theft. Instead, it's a beautiful dance of giving and accepting love.
The take-away: Relationships change over the years. We grow. We die. We connect and experience loss. But marriage—the role of husband and wife—was never meant to become our whole identity. "Married" describes a relationship with just one person who is different from all the rest. God doesn't gobble up our free will when He calls us "son or daughter."
Instead, He simply commits to loving us, and invites us to love Him back in return.
"Two are better than one, because they have a good return for their labor: If either of them falls down, one can help the other up. But pity anyone who falls and has no one to help them up.
Also, if two lie down together, they will keep warm. But how can one keep warm alone? Though one may be overpowered, two can defend themselves. A cord of three strands is not quickly broken." Ecclesiastes 4:9-12
Fear #3: What if I fall "out of love" or stop feeling attracted to my spouse? (And what if we stop having sex?)
This is a very popular question in the dating realm when it comes time for a couple to commit.
Marriage as an institution has been threatened by difficult stereotypes over the years. "Ideal love" in the media has been portrayed by excitement and lust based on novelty, rather than a safe and lasting commitment. The fear is that a marital relationship will become boring, distant, and "unsexy."
Socially, men have been made to believe that women will withhold or stop wanting sex after marriage. Women have been conditioned to think that sex exists primarily for the pleasure of men—something they should "put up with" so that their husbands won't cheat on them.
Both ideas are misleading, if not disastrous. What once began as an abusive application of patriarchical values, now continues to spread via quickly growing pornography and gender-training norms, which are prevalent here in the west.
"There is no fear in love. But perfect love drives out fear, because fear has to do with punishment…" 1 John 4:18
The Fix: Know the truth, and debunk stereotypes.
Married couples have regular and satisfying sex, even more than singles do, according to research. In fact, the longer they're married, couples are increasingly likely to experiment with new intimate experiences. This is due to their safe and secure connection, and commitment to communication surrounding sexual acts.
The feeling of being "in love" begins with first being seen, wanted, and respected. Attraction blossoms in situations where both husband and wife can take exciting risks within a safe and committed relationship.
The take-away: Don't let bogus marriage stereotypes and misinformation keep you from experiencing secure, loving acceptance, and a satisfying love life!
"Many waters cannot quench love; rivers cannot sweep it away…" Song of Songs 8:7
#4 The Fear: Will my marriage turn out like my parents' did?
I saved the best for last because, in my experience as a therapist, this is the number one fear of many couples when it comes to getting married. At first glance, we could take that question to mean that engaged folks are scared that they'll fail and get a divorce. Many are. But others fear that their marriages will never live up to their parents' expectations.
Both are painful comparisons.
"What you have learned and received and heard and seen in me— practice these things, and the God of peace will be with you." Phil. 4:9
The Fix: Know your patterns. Get new perspective.
Generational patterns can only thrive if left in the dark. Many couples live out their married lives either trying to emulate the "perfection" they thought they witnessed as kids, or they rail against their upbringings—rejecting the pain they experienced and vowing not to replicate the cycle in their own families.
Taking either of those roads is reactionary, and without new insight, they can result in the exact outcomes couples try so hard to avoid.
Husbands and wives can only do "what they know how to do," with the health and awareness they have at the time, and with whatever dependence on God and resources they have available to them. It's true of all of us.
The take-away: Don't let fear of the unknown stop you, and get help and insight instead. Your marriage doesn't have to turn out "like your parent's." Enroll in dating, pre-marital, or marriage counseling so that the fear of failure isn't standing in the way of you experiencing a wholly gorgeous marriage. It's worth every penny to experience a love like that—the kind that a Savior would die for.
Therefore if anyone is in Christ, he is a new creature; the old things passed away; behold, new things have come. 2 Cor. 5:17
A prayer for marriage:
Father, we thank you that the idea for marriage is Yours. And while Your concept is perfect, our application is flawed. We get scared. We run and avoid. We hurt one another. But You are perfect. And with the help of the Holy Spirit, we know that peace and unity is possible in every one of our relationships. As we rely on Your guidance to love one another well, please bless our dating relationships, engagements, and marriages. In Jesus' name we pray. Amen.
---
Meg Gemelliis a Licensed Marriage and Family Therapist, and the founder of The Making of a Marriage. Along with regularly polishing her Crossfit participation trophies, she can usually be found Pinterest-failing in the kitchen, glamping with the fam, or reading a great book poolside. Whatever the challenge, she practices faith over fear every single day.
Photo credit:
©GettyImages/Rawpixel
Related podcast:
The views and opinions expressed in this podcast are those of the speakers and do not necessarily reflect the views or positions of Salem Web Network and Salem Media Group.
Related video: