A New Beginning with Greg Laurie
Listen on 99.5 The WORD
Monday
3:30AM - 4:00AM, 7:00AM - 7:30AM, 7:00PM - 7:30PM
Tuesday
3:30AM - 4:00AM, 7:00AM - 7:30AM, 7:00PM - 7:30PM
Wednesday
3:30AM - 4:00AM, 7:00AM - 7:30AM, 7:00PM - 7:30PM
Thursday
3:30AM - 4:00AM, 7:00AM - 7:30AM, 7:00PM - 7:30PM
Friday
3:30AM - 4:00AM, 7:00AM - 7:30AM, 7:00PM - 7:30PM
Latest Broadcast
Can Jesus' Deity Be Proven Without the New Testament?
8/3/2021
If an unbeliever dismisses the Bible as God's Word, can they just as easily dismiss Jesus as God's Son? Tuesday on A NEW BEGINNING, Pastor Greg Laurie's guest says they can try, but they'd have to ignore a mountain of other evidence that proves Jesus' deity. Hear a fascinating discussion with a cold-case detective
Featured Offer from A New Beginning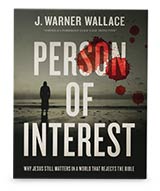 In thanks for your gift, you can receive 'Person of Interest' by J.Warner Wallace
J. Warner Wallace, bestselling author of Cold-Case Christianity, has done it again with his new book, Person of Interest. This time, he's added more than 400 awesome illustrations to help readers understand why all evidence points to the existence and deity of Jesus Christ. We will mail you a copy when you make a donation of any amount to Harvest Ministries today!