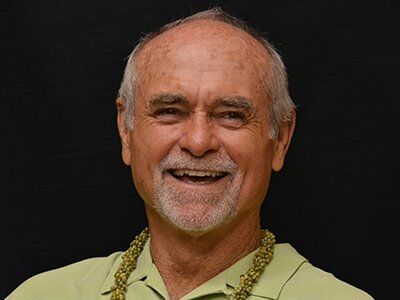 ---
Bill Stonebraker grew up in Southern California, in and around the Redondo area. He accepted Christ at a young age, "I can remember sitting off to the side, closing my eyes and repeating the prayer with this person standing 20 yards away. When I said that prayer, it was like a light went on in my life..." Bill continues, "...my life really did change. As a little 10 year old, my life really started changing."
Bill met and married his Wife, Danita, before moving with their family to Hawaii in 1967, where Bill began a surfboard making business. Bill worked on boards for a lot of the top surfers in Hawaii.
After rekindling his faith in Christ, Bill opened his house out on the North Shore for a Bible study, and throughout all of it, the Lord poured out His Spirit upon those who were truly seeking Him. These were the humble beginnings of Calvary Chapel Honolulu. After years of seeking the Lord for the means to open a Christian School, in 2000 Calvary Chapel Honolulu purchased land and developed a campus in Aiea. Over the years the church has sent short and long-term missionaries to countries around the world, including Fiji, India, Nepal, Ethiopia, Mexico, Japan, Poland, Russia, Tahiti, Hungary, Uganda, Cambodia, Australia, China and Vanuatu.
Since beginning the North Shore Christian Fellowship, more than two dozen Calvary Chapel affiliated churches have started up in Hawaii, many of which were directly influenced by Bill's ministry.
The Stonebrakers have three children: Doreen, Naylene, and Bud; and they have twelve grandchildren. Doreen and Naylene are married, living on the mainland. Bud and his wife Keren live on Oahu, where Bud now pastors the South Shore Christian Fellowship. Today Pastor Bill continues to do what he loves: teaching the Bible and ministering to the Lord's church. To the Lord Jesus be the glory for great things He has done!